Data transformation occurs when raw data changes format, values, structure, or cleansing for human and computer interpretation to support organizational decision-making.
Data risk and regulatory compliance requirements are designed to enforce accountability, transparency, the rule of law, and responsiveness.
Data risk can have an enormous impact on an organization. Imagine the release of all patient health records and social security numbers published on public-facing websites or the dark web for sale. This can happen when data security is not prioritized or the lack thereof by stakeholders and the associated legal ramifications, compliance violations, and reputational damages to the organization.
Security Governance and Compliance requirements
The demand for high data consumption from various data sources by entities (customers) has led to innovative processes to accelerate the data transformation needed to produce up-to-date, meaningful customer information.
This acceleration comes with risks such as human errors, lack of data integrity, neglect of data governance processes, and information security best practices, thereby violating regulations like the Privacy Act of 1974, Health Insurance Portability and Accountability Act (HIPPA), and General Data Protection Regulation, European Union (GDPR EU) laws.
Security Governance and Compliance Challenges
Security governance and compliance pose a severe challenge to organizations. Here is why.
Often, organizations need to pay more attention to the need for security strategic implementation and compliance obligations. Enterprise leadership sometimes is not interested in the "whys" regarding regulatory compliance and doesn't see anything wrong with cutting corners to reduce costs. Additionally, Governance, Risk, and Compliance personnel roles are often misunderstood.
These compliance watchdogs are seen as "traffic police officers" or nitpickers, always poking around departments to find problems associated with compliance violations.
Data Security and Regulatory Compliance Benefits
Several benefits can be realized when the stakeholders include security governance and regulatory compliance requirements in the enterprise risk management function.
Quality data leads to accuracy in business data analytics, which enhances decision-making to boost revenue and increases scalability to attract new businesses and competitive advantage.
Understanding security safeguards, compliance needs, and implementation using best practices fosters confidence, promotes transparency, improves productivity, and saves time.
Data integrity leads to greater customer satisfaction, makes it easier for the enterprise to meet compliance requirements, and contributes effectively to the organization's overall objectives.
Efficient and compliant data leads to cost savings. Fewer resources and time are used to fix errors, conduct reruns, or update data whenever changes occur.
Conclusion
In closing, compliance, regulatory, and legal violations can be attributed to a lack of understanding of the quality of data, security safeguards required around information assets, and inadequate attention and missing prioritization of compliance obligations when decisions are being made in the boardrooms.
Stakeholders' involvement in data governance and compliance planning process and support will mitigate data risks and ensure regulatory compliance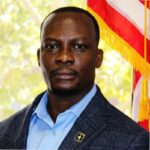 Dr. Harrison is a Doctor of Computer Science in Information Assurance, Chief Information Security Officer (CISO), Chief Privacy Officer, and Executive Board Advisor. Dr. Harrison is US Army Combat Veteran with expertise in Local Government, Industrial Control systems, Laboratory Information Systems, DoD Information Systems, and Enterprise Network Security.
Dr. Harrison is a solution-oriented, transformational CISO with expertise across all information security facets. A cybersecurity expert with top US security clearances and a record of exemplary service building and leading multiple cybersecurity task forces across various US military branches, local government, and highly regulated industries. A change agent and servant leader who drives needed organizational transformations and turnarounds that optimize the security of mission-critical data, systems, and people and inspire individuals and teams to learn more, achieve more, and serve as a vessel for service excellence to others and the organization.