Introduction
In collaboration with the National Cybersecurity Alliance (NCA), CybSafe has recently conducted comprehensive research to delve into the evolving landscape of cybersecurity behaviors, attitudes, and trends. This initiative coincides with Cybersecurity Awareness Month, and the findings are nothing short of intriguing. As we navigate the digital realm, the importance of online safety becomes increasingly evident.
Here, we break down the key insights from this enlightening study.
Awareness and Adoption of Cybersecurity Measures
Rising Recognition of Multi-Factor Authentication (MFA): A remarkable 79% of respondents in the United States now acknowledge the significance of Multi-Factor Authentication (MFA), with 70% actively incorporating it into their online security routines.
Password Managers Gain Traction: 38% of Americans are embracing password managers to fortify their password security, showcasing a growing commitment to safeguarding digital accounts.
Adoption of Proactive Cybersecurity Practices
Staying Informed with Software Updates: 61% of participants in the U.S. are committed to staying informed about security updates by consistently updating their software and applications.
Phishing Awareness and Reporting: 69% express confidence in identifying phishing attempts, and 51% actively report cybercrimes, particularly phishing incidents.
User-Friendly Solutions Needed: While proactive steps are being taken, 39% of participants express frustration and 37% feel intimidated by the process of online security, emphasizing the need for user-friendly cybersecurity solutions.
Concerns and Victimization on the Rise
Intensified Cybersecurity Concerns: 61% of participants in the U.S. express apprehension about becoming victims of cybercrime, which aligns with the growing likelihood of cyberattacks.
Americans as Cybercrime Targets: A substantial 36% of Americans have experienced one or more cybercrimes, making them the most targeted group among the countries surveyed.
A Generational Divide
Younger Generations Vulnerable: Despite better access to cyber training, younger generations (Gen Z and Millennials) report a disproportionately higher rate of cybercrime victimization.
Digital Natives Less Security-Conscious: Digital natives are twice as likely to disagree with the idea that security is worth the effort, and they often use personal information in passwords.
Gaps in Education and Training Persist
Awareness vs. Implementation: While awareness of cybersecurity practices is increasing, 30% of those aware of MFA do not use it regularly.
Password Security Challenges: 38% of Americans still incorporate personal information into their passwords.
Data Backup Practices: Only 48% of respondents consistently back up their data, highlighting the need for improvement in this area.
Cost and Access Challenges
Perceptions of High Costs: 49% of respondents across nations view cybersecurity protection as expensive.
Access to Training: Only 44% of American participants report access to cybersecurity training programs, emphasizing the need for accessible learning options.
Conclusion
The research conducted by NCA and CybSafe underscores the evolving landscape of cybersecurity. While awareness is on the rise, there are still gaps in implementation, particularly among younger generations. The need for user-friendly solutions, improved education, and accessible training options remains paramount. As the digital world continues to expand, empowering individuals with effective cybersecurity practices becomes increasingly crucial.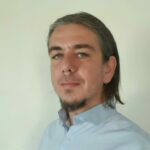 Dimitris is an Information Technology and Cybersecurity professional with more than 20 years of experience in designing, building and maintaining efficient and secure IT infrastructures.
Among others, he is a certified: CISSP, CISA, CISM, ITIL, COBIT and PRINCE2, but his wide set of knowledge and technical management capabilities go beyond these certifications. He likes acquiring new skills on penetration testing, cloud technologies, virtualization, network security, IoT and many more.