On Thursday a verified twitter profile of Siobhan McSweeney, a well known Irish actor, was hacked and was used to spam on NFT giveaways.
Followers of the actor were initially a bit surprised by the sudden interest in all things cryptocurrency. Later on, the actor tweeted, thanking everyone who reported her account being hacked.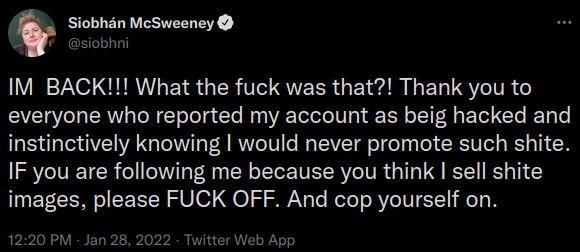 What are NFTs
For those not familiar with NFTs: A non-fungible token (NFT) is a non-interchangeable unit of data stored on a blockchain, a form of digital ledger. Types of NFT data units may be associated with digital files such as photos, videos, and audio.
Promotion of GrumpyKatz NFTs Through the Hacked Twitter Account
The people behind the compromise of the actor's Twitter account began promoting a range of pixel art cats known as GrumpyKatz.
They tweeted the following:
Giveaway time!
I am working with @grumpykatznfts to giveaway 15 SOL ($1500)
To enter:
Follow me & @GrumpyKatzNFT
Like & RT
Tag 3 friends
Twitter Profile Changed to Attract More People to Promote the NFTs