The surge in ransomware operations targeting the energy sector, including nuclear facilities, is indeed alarming and underscores the evolving threat landscape faced by critical infrastructure. Resecurity, Inc.'s identification of a significant rise in such attacks, particularly against energy installations in North America, Asia, and the European Union, highlights the global scope of this concerning trend.
The report's findings align with the U.S. Department of Homeland Security's Intelligence Enterprise Homeland Threat Assessment, revealing a 47% increase in known ransomware attacks in the United States between January 2020 and December 2022. The monetary impact is also staggering, with attackers extorting at least $449.1 million globally in the first half of 2023 alone, indicating a lucrative and escalating criminal enterprise.
The collaboration between sophisticated ransomware groups like BlackCat/ALPHV, Medusa, LockBit 3.0, and others, supported by an underground ecosystem of access brokers and tool developers, heightens the threat to critical infrastructure. The focus on high-stakes targets within the energy sector, driven by the potential for substantial ransom payouts exceeding $5,000,000 in some cases, underscores the strategic importance placed on these operations.
The specific targeting of nuclear energy firms, as mentioned in Resecurity's report, raises significant concerns for national security. The potential for disruption to essential systems in critical infrastructure poses a clear and present danger.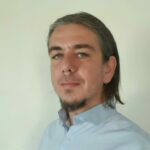 Dimitris is an Information Technology and Cybersecurity professional with more than 20 years of experience in designing, building and maintaining efficient and secure IT infrastructures.
Among others, he is a certified: CISSP, CISA, CISM, ITIL, COBIT and PRINCE2, but his wide set of knowledge and technical management capabilities go beyond these certifications. He likes acquiring new skills on penetration testing, cloud technologies, virtualization, network security, IoT and many more.