In recent years, the frequency and impact of data breaches have been on the rise. Organizations worldwide have suffered significant losses due to ransomware attacks, phishing campaigns, and other social engineering techniques employed by threat actors. These incidents have resulted in millions of dollars being lost and have highlighted the need for increased vigilance and awareness among individuals and organizations.
The Role of Human Error and Inadequate Knowledge
One of the key takeaways from the numerous data breaches is that many of these attacks could have been prevented with greater awareness and understanding of phishing and malware campaigns. Often, these breaches occur due to human error or a lack of knowledge about the tactics employed by threat actors.
Attackers exploit vulnerabilities in human behavior, such as clicking on malicious links or providing sensitive information unknowingly. By educating individuals about the risks and red flags associated with phishing attempts, organizations can significantly reduce the likelihood of falling victim to such attacks.
The High Success Ratio of Phishing Campaigns
Among the various social engineering techniques used by threat actors, phishing campaigns have proven to be the most successful. Organizations invest significant resources in training their employees to recognize and respond to phishing attempts. However, despite these efforts, phishing attacks still manage to bypass security measures and deceive individuals.
According to reports from KnowBe4, a dataset of over 32.1 million phishing simulation attempts across different organizations revealed that over 33% of employees clicked on malicious links. This highlights the need for enhanced training and awareness programs to combat the growing threat of phishing.
Phishing-Prone Percentages by Region
KnowBe4's reports on phishing-prone percentages across different regions shed light on the vulnerability of certain areas to phishing attempts. The following are the percentages obtained from the dataset:
North America – 33.1%
Africa – 32.8%
Asia – 30%
Australia and New Zealand – 34.8%
Europe – 32.9%
South America – 41.1%
United Kingdom and Ireland – 35.2%
These findings indicate that South America, the United Kingdom, Australia, and North America are particularly susceptible to phishing attacks. It is crucial for organizations and individuals in these regions to be extra vigilant and prioritize cybersecurity measures.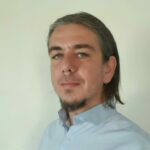 Dimitris is an Information Technology and Cybersecurity professional with more than 20 years of experience in designing, building and maintaining efficient and secure IT infrastructures.
Among others, he is a certified: CISSP, CISA, CISM, ITIL, COBIT and PRINCE2, but his wide set of knowledge and technical management capabilities go beyond these certifications. He likes acquiring new skills on penetration testing, cloud technologies, virtualization, network security, IoT and many more.