A new variant of ransomware, known as "Nevada Group," has recently emerged, targeting over 5,000 victims in the US and Europe. Security researchers have reported that the cybercriminals behind the attack exploited a software vulnerability in Cloud Servers to demand a significant sum of 2BTC or $50,000 in exchange for the release of a decryption key.
INVESTIGATION ONGOING: CISA AND FBI ADVISE VICTIMS TO REMAIN ANONYMOUS
As the investigation continues, CISA and FBI have advised the affected parties not to disclose their identities until the case has been resolved. Although sources familiar with the incident have suggested that China or Russia may be behind the attack, no conclusive evidence has been produced yet.
HACKERS INNOVATING RANSOMWARE TO EXPLOIT VICTIMS
According to IBM X Force Threat Intelligence's 2023 ransomware report, malware detection has improved over the past year.
However, hackers have continued to innovate and create increasingly sophisticated malicious software that is difficult to detect. Unfortunately, these innovations are proving to be a silver bullet, as cybercriminals continue to make money from their victims.
RANSOMWARE VICTIMS PAYING UP DESPITE WARNINGS
Another report, compiled by security firm Trend Micro, reveals that only 10 percent of ransomware victims pay to the hackers. However, this still poses a significant problem, as it encourages criminals to continue their malicious activities. The prospect of receiving millions in crypto payments provides hackers with a considerable incentive to continue their operations.
FBI ADVISES AGAINST PAYING RANSOM TO HACKERS
In 2019, the Federal Bureau of Investigation (FBI) issued a global alert to ransomware victims, urging them not to pay the hackers. The FBI's warning is grounded on the principle that paying the ransom may embolden hackers to strike again. Additionally, there is no guarantee that the victim will receive the decryption key, even after paying the ransom. The FBI advises victims to pay only as a last resort when all other data recovery options have been exhausted.
PREVENTION IS BETTER THAN CURE
The recent spate of ransomware attacks highlights the importance of investing in robust cybersecurity systems.
It is also critical to keep software up to date, regularly back up critical data, and stay informed about the latest cybersecurity threats to minimize the risk of falling prey to cybercriminals.
CONCLUSION
In conclusion, the emergence of the "Nevada Group" ransomware highlights the need for increased cybersecurity measures. While ransomware attacks remain a significant threat, staying vigilant and taking proactive measures is the best defense against falling victim to such attacks.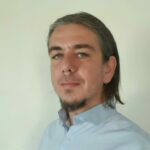 Dimitris is an Information Technology and Cybersecurity professional with more than 20 years of experience in designing, building and maintaining efficient and secure IT infrastructures.
Among others, he is a certified: CISSP, CISA, CISM, ITIL, COBIT and PRINCE2, but his wide set of knowledge and technical management capabilities go beyond these certifications. He likes acquiring new skills on penetration testing, cloud technologies, virtualization, network security, IoT and many more.