Privacy watchdog, noyb, has developed a tool that empowers users to opt-out of targeted advertising and other claims made by Meta, formerly Facebook and Instagram, in a legal and straightforward manner.
This development comes after the platform changed its legal basis for targeting advertising from automatic consent to opt-out, following several cases where it was accused of violating GDPR regulations.
What is GDPR?
The General Data Protection Regulation (GDPR) is a regulation in the EU that governs how companies process and transfer personal data of individuals in the EU. The regulation allows the processing of personal data if a company complies with one of the six legal bases, which are mostly irrelevant for advertising. Therefore, Meta requires users' consent to process personal data.
The Legitimate Interest Argument
Instead of adopting an "opt-in" system, like Google or Microsoft, Meta claims that its "legitimate interest" to process user data overrides users' fundamental right to privacy and data protection. noyb argues that the "legitimate interest" argument has no lawful foundation, and even if it did, opting-out should be as simple as opting-in.
The Hidden Opt-Out Form
To opt-out, Meta requires users to fill out a hidden form that asks them to explain why they want to perform an opt-out and argue against Meta's non-public assessment. This complicated process makes it highly unlikely that any normal user can complete the opt-out successfully.
The Solution: noyb's Opt-Out Tool
noyb's opt-out tool helps EU citizens object to the use of their personal data for targeted ads and other claims made by Meta. The tool allows users to opt-out of any processing under "legitimate interest" and generally object to the use of personal data for targeted ads.
How to Use the Tool
To use the tool, users can visit the noyb consent form and select from three options:
Facebook Login: Users can object via noyb's servers, using their email address as a sender and verifying their Facebook account via Facebook Login. They will receive a copy of the objection.
Email Tool: Users provide the email address that they use for Facebook/Instagram, and noyb will verify if it's theirs.
Email Client: noyb provides an example text for users to copy into their email client and replace "<YOUR_EMAIL_ADDRESS>" with the email address linked to their Meta account(s).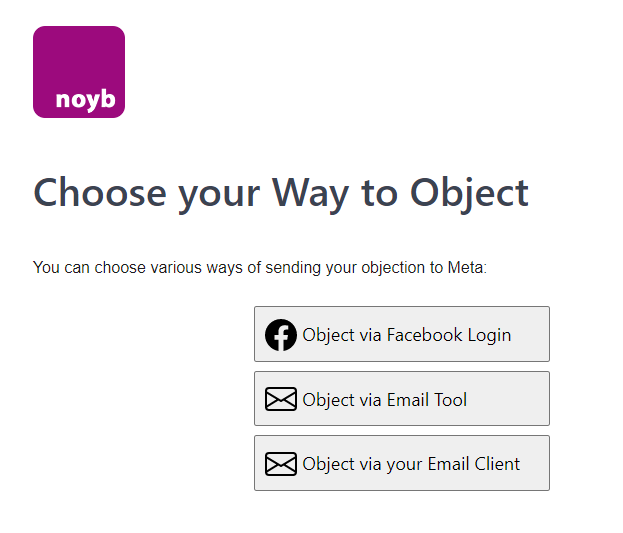 In Conclusion
noyb's opt-out tool empowers users to protect their privacy and exercise their fundamental rights. By using the tool, users can object to the processing of their personal data for targeted advertising and other claims made by Meta in a quick and easy manner.