Dish Network, the American satellite broadcast provider, has recently admitted that the outage that occurred on February 24, 2023, was caused by a ransomware attack. The company initially kept quiet about the rumors of the attack, but has now confirmed it and disclosed a data breach.
This incident impacted Dish.com, Dish Anywhere app, and many other services owned by the company. The attack caused severe damage to the infrastructure of Dish Network, which is still being investigated.
Ransomware Attack Confirmed
According to a Form 8-K filed by Dish Network with the US Securities and Exchange Commission (SEC), the company determined that the outage was due to a ransomware attack. The company immediately launched an investigation into the incident and notified law enforcement authorities.
Data Breach Disclosed
Dish Network further confirmed that certain data was extracted from its IT systems as part of the incident. The investigation is still ongoing, and it is possible that the extracted data includes personal information. The company has yet to disclose the nature of the ransomware that infected its infrastructure.
Black Basta Ransomware Operation
It was reported that Dish Network was a victim of the Black Basta ransomware operation. The threat actors initially compromised the company's Windows domain controllers and then encrypted the VMware ESXi servers and backups. Dish Network has suffered significant damage, and it remains to be seen how long it will take to recover.
Conclusion
The ransomware attack and data breach experienced by Dish Network are a stark reminder of the dangers of cyber threats. Companies must be proactive in protecting their networks and systems from attacks. Cybersecurity experts and outside advisors should be retained to assist in the evaluation of the situation, and law enforcement authorities should be notified immediately. By taking swift and decisive action, companies can minimize the damage caused by cyber attacks.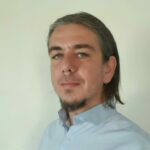 Dimitris is an Information Technology and Cybersecurity professional with more than 20 years of experience in designing, building and maintaining efficient and secure IT infrastructures.
Among others, he is a certified: CISSP, CISA, CISM, ITIL, COBIT and PRINCE2, but his wide set of knowledge and technical management capabilities go beyond these certifications. He likes acquiring new skills on penetration testing, cloud technologies, virtualization, network security, IoT and many more.