In an online survey conducted by Malwarebytes Labs, a new norm presented itself. The majority of parents participated in the survey responded that they are digitally monitoring their children.
899 parents filled the survey, most of them had children aged nine years old or older.

84% of our respondents admitted to some form of electronic monitoring of their children, 70% used at least one form of monitoring they had told their child about, and 36% used at least one form of monitoring they had not told their child about.
Parents who monitor tend to use more than one kind of monitoring, whether they tell their children or not. 54% of parents use at least two forms of monitoring with their child's knowledge, and 24% of parents use at least two forms of monitoring without their child's knowledge.
What Do Parents Monitor
The most common thing for parents to monitor electronically was their child's physical location (GPS), and the least common thing to monitor was messaging apps.
Of the activities the parents were surveyed about, GPS is probably the easiest thing to monitor, and messaging apps the hardest.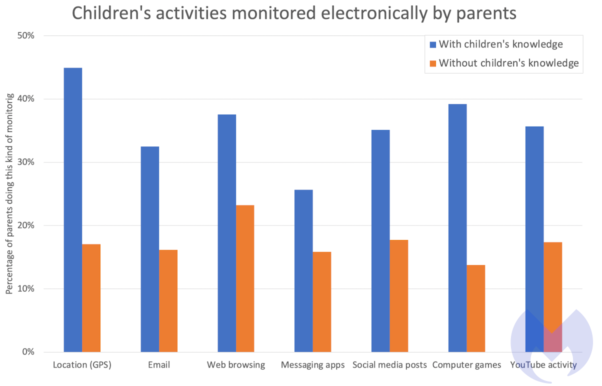 At Which Age Do Parents Start Monitoring Their Children
Some parents start using electronic monitoring when their children are 3-5 years old, and others wait until their children are in their late teens, but the most common time to start electronic monitoring is when children are between 9 and 11, although it skews a little younger for computer games, and a little older for social media.
When monitoring ends
According to the survey, it is very unlikely that the parents will stop digitally monitor their children before their eighteenth birthday: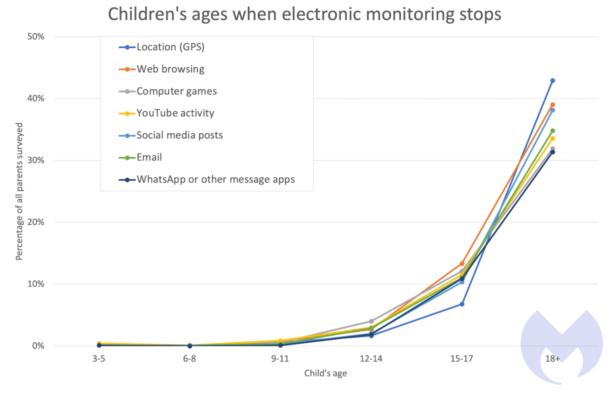 At Which Age Parents Allow Children to Open Online Accounts
Respondents were also aksed when they thought children should be allowed to open Facebook, Twitter, Instagram, TikTok, and YouTube accounts.
Most of the popular social media platforms have a minimum age limit of 13 years, but only about 30% of our respondents thought that children were old enough to open a social media account at that age or younger. While more parents thought 15-17 was a better age, the biggest cohort by far—between about 40 and 50% of all the parents surveyed, depending on the platform—thought the minimum age should be 18 or older.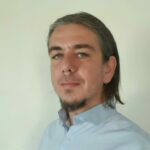 Dimitris is an Information Technology and Cybersecurity professional with more than 20 years of experience in designing, building and maintaining efficient and secure IT infrastructures.
Among others, he is a certified: CISSP, CISA, CISM, ITIL, COBIT and PRINCE2, but his wide set of knowledge and technical management capabilities go beyond these certifications. He likes acquiring new skills on penetration testing, cloud technologies, virtualization, network security, IoT and many more.