ISACA professionals responded to a recent survey on whether they are ready to detect and respond to the rising cybersecurity attacks during COVID-19.
ISACA surveyed more than 3,700 IT audit, risk, governance and cybersecurity professionals from 123 countries in mid-April to assess the impact of COVID-19 on their organizations and their own jobs.
Only 51 percent of technology professionals and leaders are highly confident that their cybersecurity teams are ready to detect and respond to the rising cybersecurity attacks.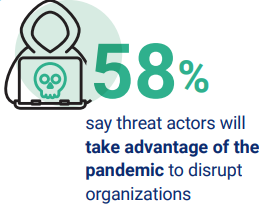 EXPLOITING COVID-19
The COVID pandemic is a perfect opportunity for attackers to exploit special circumstances that people and businesses haven't encountered before. 58 percent of respondents say threat actors are taking advantage of the pandemic to disrupt organizations.
LACK OF TOOLS & RESOURCES
Only 59 percent say their cybersecurity team has the necessary tools and resources at home to perform their job effectively.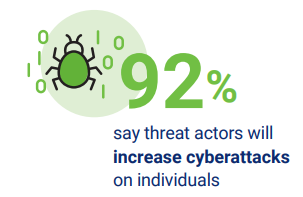 INCREASE OF ATTACKS TO INDIVIDUALS
92 percent say cyberattacks on individuals are increasing.

People are working remotely and from home networks with less security than their corporate networks. Additionally, personal device usage has increased with less attention given to security.
JOB SECURITY
Most of these professionals believe their jobs are safe. Ten percent think a job loss is likely and 1 percent has been furloughed.
MORE CONCERNS ON WIDER IMPACTS
Respondents are still extremely concerned about these wider impacts of the novel coronavirus:
Economic impact on my national economy (49 percent)
Health of family and friends (44 percent)
Personal health (30 percent)
Economic impact on my organization (24 percent)
NEGATIVE EFFECTS
While respondents report being highly satisfied with their organization's internal communications, business continuity plans and executive leadership related to COVID-19, their organizations have not been able to avoid the negative effects, including:
Decreased revenues/sales (46 percent)
Reduced overall productivity (37 percent—more executives than practitioners think this is the case)
Reduced budgets (32 percent)
Supply chain problems (22 percent)
Closed business operations (19 percent)
You can find more information on this study here.