A Global Surge in Cybersecurity Threats
In recent years, the onslaught of cybersecurity attacks has intensified dramatically, culminating in a staggering 156% surge in security breaches worldwide from the first quarter of 2023 to the second, as unveiled by a comprehensive report from VPN service SurfShark. The escalating frequency of hacking and security leaks has propelled various nations into the crosshairs of cyber assailants, prompting a critical examination of the top countries besieged by data breaches.
Magnitude of Breaches: A Disturbing Escalation
The second quarter of 2023 witnessed an unprecedented escalation in data breaches, with over 110 million accounts compromised— an astonishing 2.6-fold increase compared to the 43.2 million breaches reported in the preceding quarter. Highlighting the intensity of this surge, an alarming 855 accounts were breached every minute during Q2, nearly tripling the previous quarter's rate of 334 accounts per minute.
Methodology and Scope
The comprehensive dataset for this study was curated from over 29,000 publicly available databases, meticulously aggregated by email addresses.
These data points were then anonymized and subjected to rigorous statistical analysis by SurfShark's researchers, revealing insightful trends and patterns. Notably, the report adheres to an accurate timeline of breach occurrences rather than their public disclosure, ensuring the utmost precision in capturing breach dynamics.
Pinnacle of Breached Nations: The Top 5
This quarter, a concerning trend emerged as several countries grappled with substantial breaches. The United States, Russia, Spain, France, and Turkey experienced the highest number of leaked accounts, collectively accounting for approximately 68% of the total breached accounts in Q2 2023. Remarkably, except for Turkey, all these nations held similar positions in the previous quarter's breach rankings.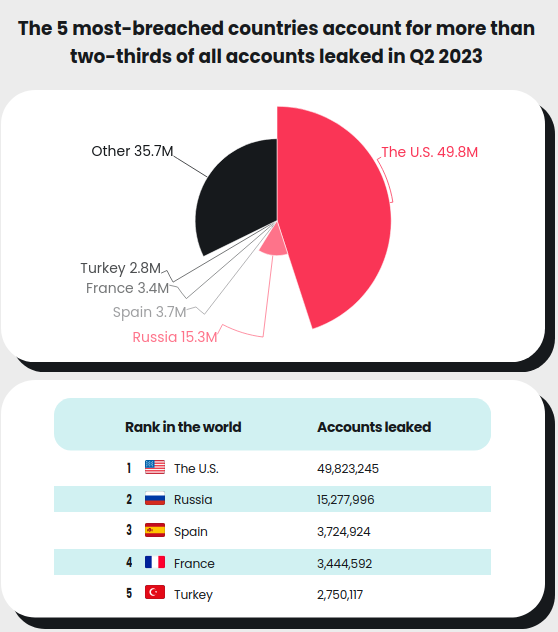 United States Reigns Supreme
Eclipsing its previous position as the second most-breached nation, the United States seized the ignominious title of the most breached country in Q2 2023, with an astonishing 49.8 million breached accounts.
These compromised American accounts constitute a staggering 45% of the total breached accounts during the quarter, reflecting an exponential 830% surge from the 5.4 million breaches recorded in the previous quarter.
Russia and Beyond: A Global Breach Landscape
Russia emerged as the second most-breached nation in Q2 2023, witnessing a significant increase from 6.8 million breached accounts in Q1 to 15.3 million during this quarter.
However, despite this surge, Russian accounts comprised less than 14% of the total breaches in Q2.
Spain experienced a moderate rise, tallying 3.7 million leaked accounts, a slight increment from the 3.1 million breaches recorded in Q1, catapulting it from fifth place in Q1 to third in Q2.
France maintained its fourth-place ranking, with a modest uptick from 3.2 million breached accounts in the previous quarter to 3.4 million in Q2.
Remarkably, Turkey made an astounding leap from 25th place to fifth, with a notable increase from 120,000 breaches to 2.8 million breaches in the span of three months.
Breaching the Boundaries: Regional Insights
Regional dynamics further illuminate the breach landscape, revealing disparities in breach rates. Q2 2023 witnessed a decline in breach rates in Asia, Africa, and Antarctica, while North America, Europe, Oceania, and South America experienced an escalation in compromised accounts.
Breach Density: A Nuanced Perspective
The report introduces the concept of breach density—a metric that gauges the impact of breaches by dividing the total breach number by a country's population. This nuanced approach reveals a more accurate assessment of breach susceptibility. For instance, despite having a lower breach count, countries with smaller populations may experience higher breach density and, consequently, a higher likelihood of individuals being affected.
Evaluating Breach Density: Cases in Point
Finland's breach density serves as an illustrative case. Though not among the top five countries by breached account count, Finland matches Spain's breach density, indicating that its smaller population size places it at a comparable risk level. Similarly, Australia, despite not ranking high in breach counts, exhibited a notable increase in breach density from one quarter to the next.
Magnitude of the Menace: United States and Russia
Two countries stand out with exceptionally high breach densities— the United States and Russia.
Q2 2023 saw the United States attain the highest breach density, with 147 accounts breached per 1,000 Americans—an exponential rise from the previous quarter's 16 accounts per 1,000 people.
In a parallel trajectory, Russia more than doubled its breach density from Q1, emphasizing the growing threat landscape.
Dimitris is an Information Technology and Cybersecurity professional with more than 20 years of experience in designing, building and maintaining efficient and secure IT infrastructures.
Among others, he is a certified: CISSP, CISA, CISM, ITIL, COBIT and PRINCE2, but his wide set of knowledge and technical management capabilities go beyond these certifications. He likes acquiring new skills on penetration testing, cloud technologies, virtualization, network security, IoT and many more.